Second Life
How we operate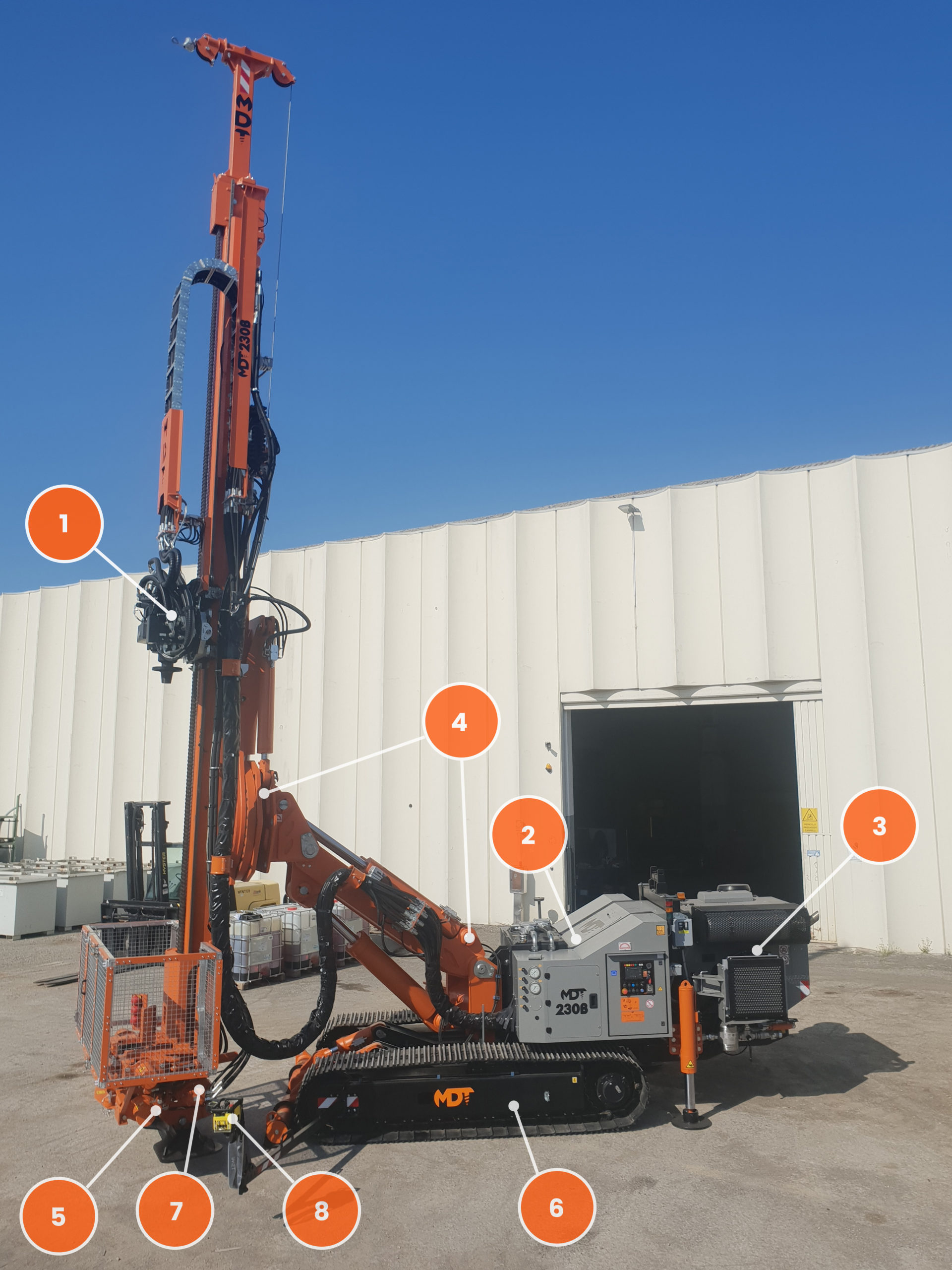 1. Rotary head
We check the existing rotary head and its level of wear.
We can replace the key parts such as gears, motors, floating unit while keeping the outer casing if the wear is such that the operation is worth it, or replace it with a new unit.
2. Hydraulic system
We check the main hydraulic and service pumps, the hydraulic distributors and corresponding lines. We control pressure calibrations and flow rates. All parts can be overhauled or replaced with new units according to the degree of wear.
3. Thermal or Electric Motor
We perform diagnostic check with technicians approved by the manufacturers, such as Deutz, Caterpillar, Volvo, and we prepare a report with the kind of action recommended.
In case the motor is visibly worn out, we replace it with a new one.
4. Cylinders and joints
Each cylinder installed on our drilling rigs has its own certificate of origin.
We replace seals and evaluate grinding the rods according to the level of wear.
If needed, we replace the original cylinders with new ones.
We analyse the condition of mechanical stress of each individual joint and welding.
5. Clamps and Hydraulic unscrewers
This unit is subject to the highest rate of wear.
We check and, if needed, properly adjust the steel body.
We check the conditions of the hydraulic cylinders and the torque values.
The seals or the individual components may be replaced.
We check clearance and even path of drilling axis.
We replace clamp claws.
6. Undercarriage
We check the wear of the track motors and timing.
We check the chain idlers and chains worn parts.
We replace or inspect the parts subject to excessive wear.
7. Pull push devices
We check the hydraulic transformer or the pull push cylinder according to the various models, as well as the rotary translation chain.
We check the hydraulic pipes located in the pipe rack.
We inspect or replace worn or damaged parts.
8. Remote control
We check the precise working condition of the device.
Updates and implementations
Implementation of the drilling control systems
Even on an outdated drilling rig we can assess whether it is worth installing a drilling parameter monitoring system of your choice, updating and upgrading the machine to the most recent worksite practices.
Implementation of regulatory protective cages
We assess the need and feasibility of regulatory updates for your drilling rig.
Protective cages designed and built in compliance with UNI EN 16228-2014 standard for safe use of ROM and SPECIAL modes.
Varnishing
We can refresh the paint of the equipment to give it a proper appearance for a Second Life or completely re-varnish the drilling rig in all its main parts, from sandblasting to new paint.